Last week was an exciting one, with the annual Mazda Shootout happening at Carolina Motorsports Park. In this always-memorable event, finalists take part in a competition for scholarship money toward next season's Mazda MX-5 Cup and Spec MX-5 series. Between the two series, we had 24 contestants on hand, which made for an action-packed two days at the track.
I was there as an MX-5 Cup judge alongside longtime Mazda factory driver Jonathan Bomarito, as well as Mazda MX-5 Cup scholarship, race, and Rookie of the Year winner Connor Zilisch and 2023 Women's Initiative scholarship winner and MX-5 Cup driver Heather Hadley.
We had ideal weather for the Shootout, which meant there were no compromises to the busy schedule. The finalists drove multiple sessions per day, but they weren't judged solely on their on-track performance. Additionally, finalists were evaluated for their off-track skills with things like media interviews, sponsorship presentations and overall professionalism.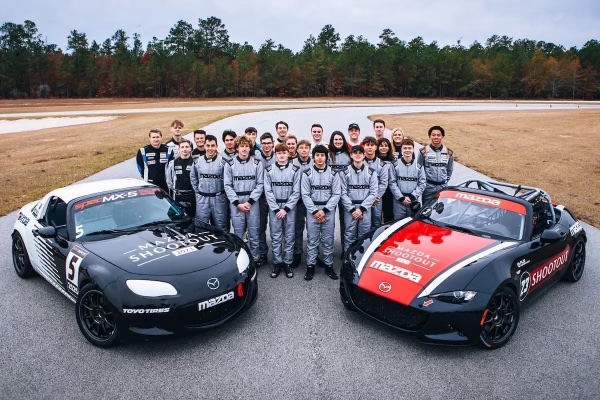 New this year was live coverage streamed on Racer.com, where fans could tune in for all the on-track action, as well as behind-the-scenes interviews and commentary by IMSA Radio's Shea Adam. This was a new and exciting element to an already memorable annual event. The Mazda Shootout is really special and unique, and having the live coverage was a great way to showcase it.
After a day and a half of activity, the MX-5 Cup Shootout field was cut in half to the top six. Those contestants had one final session. Even with the field narrowed, it was a tough decision for us judges as we evaluated on-track performance as well as off-track total package.
In the end, although there were more than just two deserving finalists, Westin Workman and Nathan Nicholson were the two winners of the 2023 Mazda MX-5 Cup Shootout. They are the recipients of the $110,000 and $75,000 scholarships given out by Mazda.
An additional $75,000 went to Sally Mott for the Women's Initiative Scholarship. It was great to see over $250,000 given to these deserving drivers for their 2024 Mazda MX-5 Cup season.
I'm excited to see what these drivers accomplish in the 2024 season, which will be here before we know it. The schedule kicks off in Daytona in just two months at the Rolex 24!