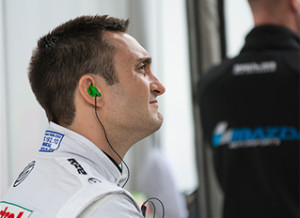 With more than 150 professional starts, Tom has accrued over 20 wins and 40 podium finishes in IMSA/GrandAm competition.
Tom Long is a professional racer, coach, and development driver. This season, fans can find him racing in the IMSA Michelin Pilot Series GS GT4 class and the IMSA Lamborghini Super Trofeo Series. He also competed in the 2022 12 Hours of Sebring, driving an Acura NSX in the GTD Pro class.
After serving as the lead development driver for Mazda's Global MX-5 Cup car, Tom is now a race official for the Idemitsu Mazda MX-5 Cup Series, where the car he helped develop enables competitors to produce some of the most exciting racing and closest finishes to be found in sports car racing today.
Tom will also continue coaching clients at road racing tracks throughout North America, helping both driving enthusiasts and racers enhance their skills. His ability to adapt to any kind of car, as evidenced by his diverse racing schedule for 2022, helps him connect with drivers of all kinds of cars and skill levels.
Tom joined the Mazda Motorsports Prototype team in 2013, competing in the IMSA WeatherTech SportsCar Series. In the 2015 Rolex 24 Hours at Daytona, Tom led overall in the Mazda SKYACTIV-D Prototype, the first Mazda and the first diesel to lead the race overall in its history.
Tom finished the 2016 season sixth in the Prototype driver championship after earning five top-five finishes. The 2017 season included third place at Detroit, marking Tom's first podium finish in the Prototype class. It was not, however, his first podium in the series. At the 2011 Rolex 24 at Daytona, Tom finished third in the GT class as part of the Dempsey Racing Mazda RX-8 team.
Tom made history again in 2018. He and Britt Casey, Jr. co-drove the No. 77 TRUMPF Audi RS3 LMS in the new TCR class of the IMSA Continental Tire SportsCar Challenge. At Daytona, they became the first-ever winners of the class in both the series and North America.
Early Career
Tom got his start in Showroom Stock and Spec Miata racing, and in 2005 he won the Mazda MX-5 Cup National Championship at the SCCA Runoffs. Tom moved up to the IMSA Continental Tire Sports Car Challenge Series in 2006, and just a year later he was already a podium finisher. In 2009, as a driver and team manager for Freedom Autosport, Tom took his first win in the ST class of the series: an especially memorable victory at his home track of Virginia International Raceway.
The success with Freedom continued. In 2010, Tom earned two wins and a top-five spot in the ST championship. The following year, Tom stood on all three steps of the podium during the season. The 2012 season was another triumph, as Tom and co-driver Derek Whitis finished second in the ST driver championship after taking a win and seven top-ten finishes.
Tom added an ST win in both 2013 and 2014, despite making limited appearances throughout the season as he shifted his focus to the IMSA WeatherTech Series. In 2015, Long made another appearance with Freedom at Mazda Raceway Laguna Seca, finishing second behind his teammates. In just three races with Freedom in 2017, Tom and co-driver Britt Casey, Jr. had a best finish of second at Road America.
In addition to racing, Tom works as a professional driving coach and instructor. He is also a house coach for the VIR Drivers Club. Tom graduated from the University of North Carolina-Charlotte in 2004 with a degree in business marketing.