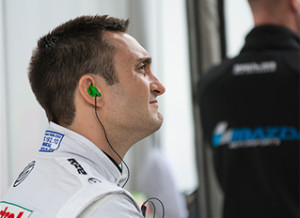 Tom Long is a full-time driver with Mazda Motorsports in the IMSA WeatherTech SportsCar Series Prototype class. He and Joel Miller co-drive the No. 70 Mazda RT-24P. Tom joined the team in 2013, and in the 2015 Rolex 24 Hours at Daytona, Tom led overall in the Mazda SKYACTIV-D Prototype, the first Mazda and the first diesel to lead the race overall in its history.
Tom finished the 2016 season sixth in the Prototype driver championship after earning five top-five finishes. In addition, Tom continued his role as the lead test and development driver for the Global Mazda MX-5 Cup car, which debuted in 2016.
Tom got his start in Showroom Stock and Spec Miata racing, and in 2005 he won the Mazda MX-5 Cup National Championship at the SCCA Runoffs. Tom moved up to the IMSA Continental Tire Sports Car Challenge Series in 2006, and just a year later he was already a podium finisher. In 2009, as a driver and team manager for Freedom Autosport, Tom took his first win in the ST class of the series: an especially memorable victory at his home track of Virginia International Raceway.
The success with Freedom continued. In 2010, Tom earned two wins and a top-five spot in the ST championship. The following year, Tom stood on all three steps of the podium during the season. The 2012 season was another triumph, as Tom and co-driver Derek Whitis finished second in the ST driver championship after taking a win and seven top-ten finishes.
Tom added an ST win in both 2013 and 2014, despite making limited appearances throughout the season as he shifted his focus to the IMSA WeatherTech Series. In 2015, Long made another appearance with Freedom at Mazda Raceway Laguna Seca, finishing second behind his teammates.
Tom's first accomplishment in the IMSA WeatherTech series was at the 2011 Rolex 24 at Daytona, when he finished third in the GT class as part of the Dempsey Racing Mazda RX-8 team.
On the off weekends, Tom works as a professional driving coach and instructor. He is also a house coach for the VIR Drivers Club. Tom graduated from the University of North Carolina-Charlotte in 2004 with a degree in business marketing.