This past week was an exciting and fun one at Road Atlanta, where the Petit LeMans closed out the 2016 IMSA WeatherTech season. We had perfect fall weather every day—much better than last year's tropical storm!
Early on in the week, before my work with the Mazda Prototype got started, I helped Ashton Harrison to a ninth-place qualifying position, which was her best ever in the Global Mazda MX-5 Cup Series. Watching her run in the top ten in both of her races while also setting the second-fastest race lap in one of them was really gratifying. Although the final results weren't what she had hoped, she walked away from the season with her best performances and showed that she'll be stronger than ever next season.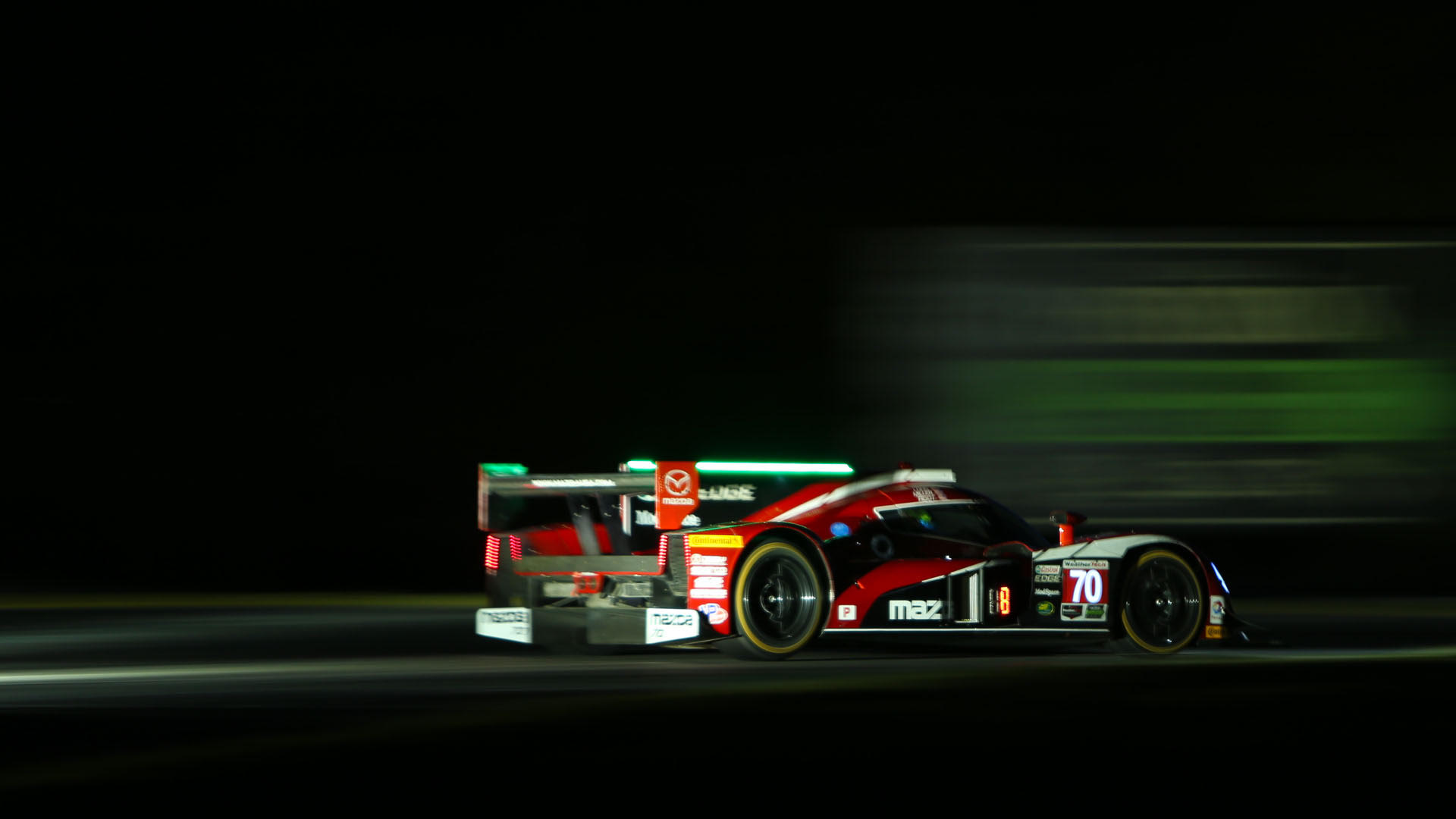 From the start of practice, our Mazda Prototypes were strong. We made great gains in the first day of practice to get the car balanced and dialed-in to where all the drivers were very satisfied. That first day of practice at Petit LeMans is always a busy one, because we have the majority of our practice time that day with three sessions. We really had to focus and accomplish a lot.
On Friday, we verified the setup in our last practice before qualifying and got resident MRTI (Mazda Road To Indy) and current Indycar driver Spencer Pigot some seat time in our car. He was slated to drive both the No. 70 and 55 in the race. You'd think that both cars would be identical, but they each have their nuances, so it was interesting to hear Spencer's feedback about driving both cars.
I qualified and started our No. 70. Qualifying was a very intense session, and we jumped around in the order as cars went faster and faster. When the checkered flag flew, we fell 1/10th of a second shy of the third-place qualifier. I knew that the outside of the second row would be a perfectly fine place to start a 10-hour race, and I would be starting right behind my teammate Tristan.
The race got off to a busy start, and we quickly got into GT traffic, lapping through the field twice during the opening stint. Our No. 70 Castrol Mazda was extremely strong in traffic all day long, enabling us to catch other Prototypes in our class and setting us up for a strong run through the majority of the race.
As we got into the heat of the day, track conditions began to degrade but our Mazda still maintained a great pace, and we were able to consistently stay in the top five throughout the afternoon. My hardest stint was during a 45-minute caution because it was the warmest part of the day, and our car only has airflow when we're at speed. It's like driving your car with the windows down on a summer day: you're fine when you're moving, but you bake when you're stuck at a red light! At that point in the race, I was just playing a game with trying to maximize fuel mileage under yellow.
After that caution, the sun started to set and the fun really began as track temperatures cooled and the cars got faster. We had excellent pit stop strategy that allowed us to remain in the top three. Our Mazda's pace kept getting stronger, and we led at times.
With less than an hour to go, it looked like we were poised for the No. 70's first podium finish. There was so much anticipation building with 20 minutes to go, and I could feel the excitement from the whole team. With 15 minutes left, we experienced a fuel injector failure, which caused a small fire and sidelined us from finishing the race. Luckily Joel, who was driving at the time, was okay, but our podium chances were shot.
It was a tough result to accept after such an incredible day and all the hard work poured into the effort. But certainly, reflecting on the race and the week as a whole, it will be one to remember.