I was at Virginia International Raceway last weekend for my home race on the IMSA Continental Tire SportsCar Challenge schedule, the Biscuitville Grand Prix. I'm always excited to be racing in front of the home crowd, and I certainly felt their presence. I felt so lucky because every time I turned around, a familiar face was saying hello. I even had some local media attention (you can read the article here), which was very nice.
Our Compass Racing crew did another phenomenal job helping Britt Casey, Jr. and I dial in a perfect setup on our No. 77 TRUMPF Audi RS3 LMS, which had us eagerly awaiting qualifying and the race. Britt once again had a fantastic qualifying performance, narrowly missing the pole by just 0.007 seconds! It's incredible to think about how small of a margin that really is. We knew we had a great car for the long run, so we were anxious for race day.
That evening before the race, we had our TRUMPF guests visit for dinner, as they usually do. We had over 25 special guests with us, and it was exciting to share their enthusiasm for our program.
On race day, with the threat of thunderstorms, we knew it was going to be a day that we needed to be ready for anything. I think that's where the strength of our driver pairing and our team comes in.
Just prior to the Fan Walk, a big rainstorm came and saturated the track. Luckily for the fans, though, it stopped just in time to enjoy another spectacular IMSA Fan Walk while the track continued to dry.
Since the race went green in drying conditions, everyone started on dry tires. Another rapid rainstorm had some cars flying off the road, others pitting for rain tires, and a very few staying out on dries, since it was a short shower that only dampened the track for several laps. Britt did a masterful job of staying clean and staying on dry tires in those treacherous conditions, taking the lead and getting a gap over second place.
Further into his stint, the car developed a fuel pressure issue that prompted us to pit for our standard stop of fuel, tires and driver change. As I left pit lane after a flawless pit stop, I knew right away it was going to be a long way to the end because the dash was lit up in red with fuel pressure alarms. I quickly learned to adapt because high RPMs would cause the car to cut out, so I had to short shift everywhere to minimize the power losses.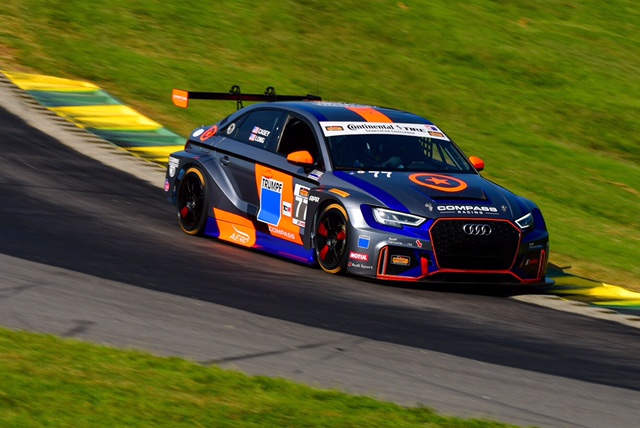 Although we were still maintaining the lead while managing this issue, we knew our gap was rapidly shrinking. In those moments, as a driver, there's nothing you can do but keep driving your best, even though it's difficult to swallow the fact that the car was handling perfectly and could have maintained the lead pace to the end.
As the fuel pressure problem continued to get worse, we had to stop for a splash of fuel with only 20 minutes left in the race, ultimately losing the lead and having to settle for third place. In motorsports, unlike almost any other sport, your personal performance can be at the top of its game, but the equipment has to match to achieve success.
As a driver, not giving up and keeping focused on how to maximize the capabilities of the car ultimately let us salvage a podium result in what should have been a victory. It's tough for us, but we could certainly see the silver lining because the issue could have taken us out of the race completely. The pressure is really mounting as we head into our final two races of the season, where we can't falter with such a close championship battle.