Memorial Day Weekend was about tradition: going to Lime Rock Park. Driving to the track, which is a beautiful route from the airport, really made me think about what Lime Rock means to me and all the great memories I've had at the circuit. In fact, the first track I ever went to growing up was Lime Rock – my dad raced there with SCCA when I was really young.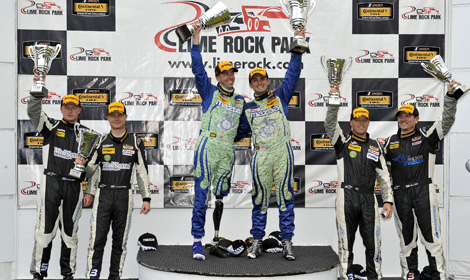 Lime Rock on Memorial Day weekend is even more special. I got my first pro win in 2004 with the MX-5 Cup Series on that weekend. Most recently, I had one of my most iconic wins, taking the 2014 ST class victory with Liam Dwyer in the Freedom Autosport Mazda MX-5. Liam is a veteran, so getting the win with him on Memorial Day weekend was really special.
This year it was the Pirelli World Challenge Series that was running at the historic 1.5-mile circuit on Memorial Day Weekend. It was an absolutely picturesque weekend, and really just a nice event overall. My role was a little different this time around. I was there on behalf of Mazda, specifically to support the competitors in the TCA class. It was a critical weekend for teams as the series reached its halfway point.
I was a Balance of Performance liaison, which means I worked with the Mazda teams to figure out their competitiveness in the series compared to other cars, and I worked with the series to balance their performance with the other manufacturers. That entails looking at a lot of data: sector times, trap speeds, the flow of the races and making sure that the Mazda Global MX-5 Cup cars are competitive in the TCA class. For somebody who owns a Global MX-5, you can run in multiple professional series with it and count on a very competitive experience each time.
Mazda also had a display with all of their road cars, race cars and simulators, and I was on hand both Friday and Saturday to interact with fans, particularly with offering tips on the simulators and giving tech talk presentations. It's always fun to talk to enthusiastic fans about a subject I'm so passionate about!