I'm excited to say that Joel Miller and I got our first podium finish in the No. 70 Mazda Prototype at the Detroit Grand Prix! The team made a lot of developments to the cars since our race at Circuit of the Americas—we weren't going to accept the results we got there—so a lot of hard work went into preparing for Detroit.
We already have one street circuit under our belt this year, and with our sister car finishing third at Long Beach, we know we can be competitive on them. In fact, all of our team's previous podium results have come on street circuits, something we wouldn't mind changing up next at Watkins Glen!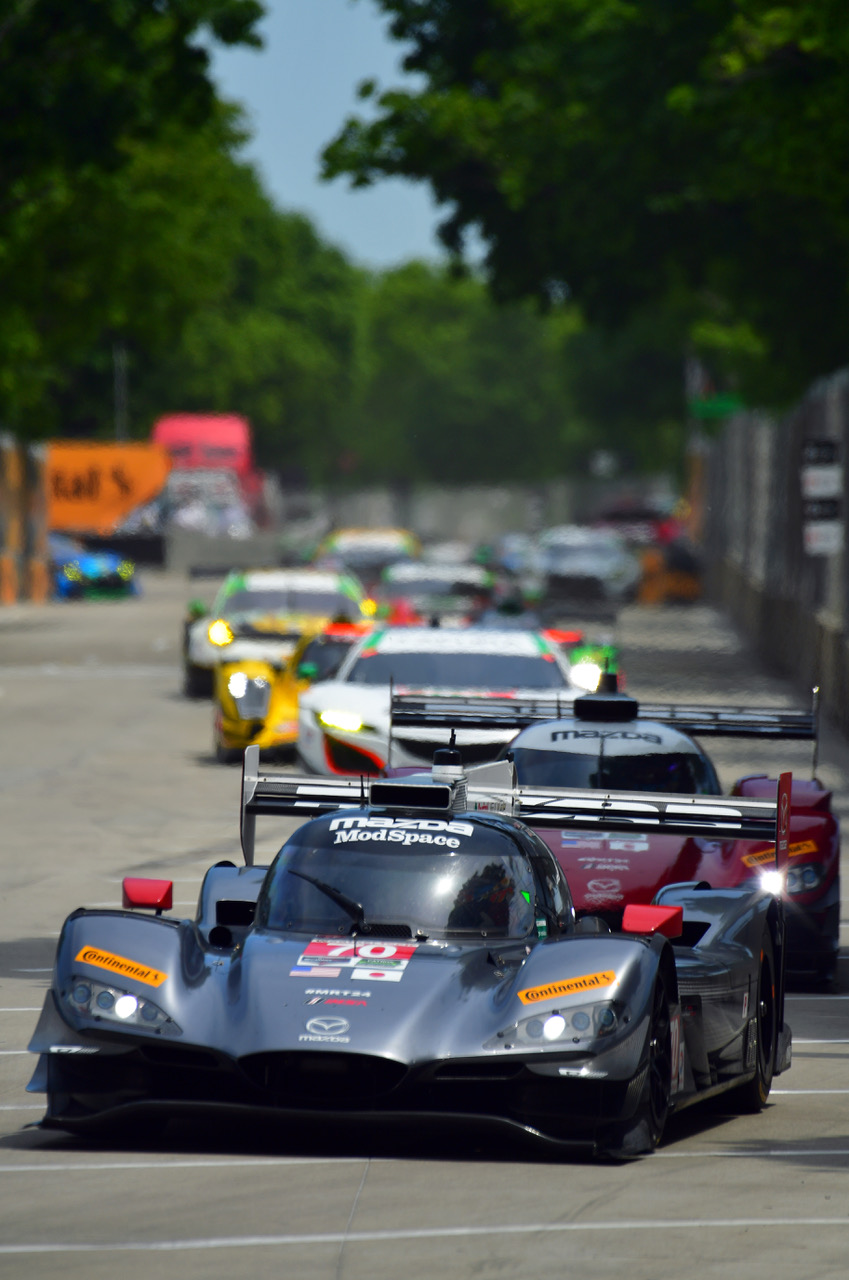 Through practice and into qualifying, we were very pleased with the performance of our Mazda Prototypes. Like any car, there are always areas to keep fine-tuning. We were able to really utilize the updates that the team made and we continued to progress on the setup so that both cars had top-five speeds in qualifying.
Unfortunately, due to circumstances that led to a shortened qualifying session, the grid was set according to points instead of qualifying times. That meant our two Mazdas would be starting fifth and seventh.
We knew the race start would be critical because track position is paramount at a street circuit due to the difficulty of making passes. There was a lot of excitement, as there always is in street circuit racing, with a lot of passes and jockeying for position in the beginning. Traffic played a major role as we tried to lap GT cars while maintaining our pace, and we were continually losing or gaining time to the other prototypes because of it. It's a constant battle. In retrospect it was fun, but at the time, it was really intense and you're on the edge the entire time.
Our No. 70 Castrol Mazda team had a great pit stop during a caution, and we were able to jump ahead of other cars for position. Joel took over and was able to have an incredible restart, which saw him pass another two cars for position, moving him into second.
From there, everybody settled in. It turned out to be a fuel mileage race, meaning everybody was short on the amount of fuel they needed to make it to the end, so there was another round of short pit stops just for a splash of fuel. In the end we were able to hang on for third, our first podium for the No. 70 Mazda! It was the second podium finish of the year for the team, ironically both on street circuits.
It felt so good to finally achieve the results that the No. 70 team deserves. We're certainly excited about our finish, but still focused on reaching that top step. It's great momentum heading into the summer season, with a lot of races ahead!