This past weekend was the Detroit Grand Prix at Belle Isle. Mazda's prototype program came off the last two races showing a lot of great pace and forward momentum. Understandably, the team's hopes were high for the event in Detroit.
The Detroit street circuit has historically been very bumpy. The P2-style chassis that Mazda and some of the other teams campaign don't necessarily lend themselves to those track dynamics as well as the DP chassis. Throughout practice, the focus was to try to gain a balanced platform for the car that also allowed for travel over all the bumps.
Our No. 70 car ended up with a few issues in the first practice, and that kept us from getting enough track time for setup. The beauty of our Mazda Motorsports program and having two cars is that we can share the information with our teammates to benefit each other. In this case, because the 70 car missed so much of practice, we were able to use the setup info from the No. 55 car for qualifying.
Qualifying went very smoothly, especially considering that the crew had to work all day long replacing parts and resolving the issues that the 70 car had early on. It was a nice finish to the day to have both cars run strong in qualifying. We knew race day was going to be a battle, not only for pace but also for steering clear of all the chaos that street circuit racing can create.
In the opening stages of the race, that street circuit drama unfolded in the prototype class as two of the top contenders collided. That allowed our Mazdas to take advantage of the situation, and we both moved up the running order. We capitalized on that by finishing third and fourth. This marks Mazda's best result in the IMSA WeatherTech championship to date. It is the prototype program's first podium finish, and it ties the best result of fourth for the 70 car.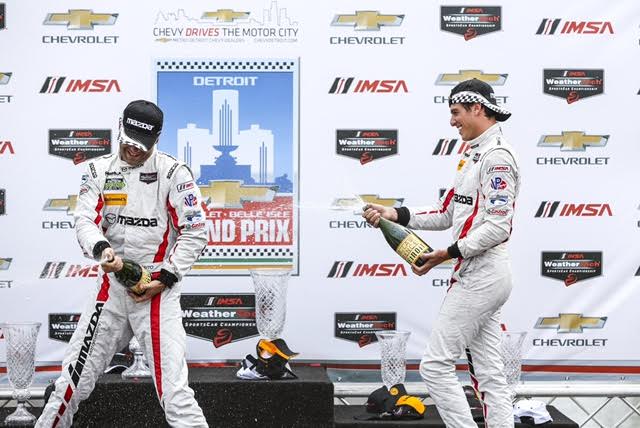 I'm so excited for the Mazda prototype program to get its first podium, and congratulations to Tristan Nunez and Jonathan Bomarito for their success! We all know there is more ahead, with two more steps we want to climb to get that first win. The next races for us will be Watkins Glen and Canadian Tire Motorsports Park, which are circuits that will lend themselves well to the P2-style chassis. We're very excited to see what the summer will bring!