It was exciting to see the Mazda Global MX-5 Cup Series compete at Watkins Glen for the first time in series history. Rounds 3 and 4 of the 12-round championship also had a record number of entries, with 42 cars on the entry list.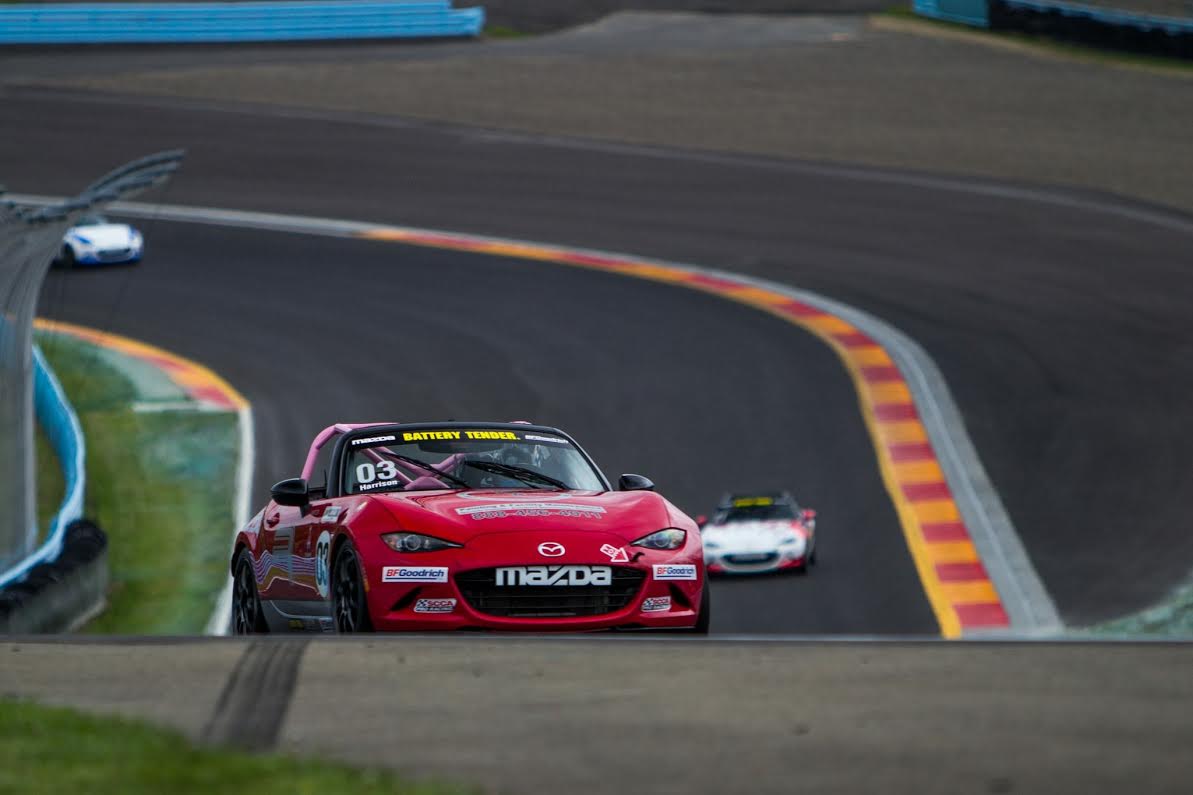 My goal for the weekend was to keep coaching Ashton Harrison with her pro-racing endeavors as she continues to progress up the Mazda ladder system.
Friday was the first day of official practice, where from a coaching perspective we focused on specific points along the track to gain time and consistency. Saturday morning was qualifying, with the first race in the afternoon. Qualifying was shortened due to changing weather conditions, so the series opted to start the race on points.
With Ashton's results from the opening rounds at Mazda Raceway, she would be starting 27th. Race one was in the pouring rain, and luckily the BF Goodrich rain tire was perfectly suited to the wet-weather conditions. Even still, we knew the risk of a first-lap incident in the rain, so Ashton elected to start from the back of the field. Sure enough, there was an incident in turn one at the green flag, so the decision paid off.
Steering clear of drama, Ashton was able to come home unscathed. Because we had another race to run on Sunday, it was vital to finish the race cleanly. Ashton focused on advancing through the field with carefully calculated moves to ensure she kept the car in good shape. This strategy worked well for Ashton, while other cars were unable to compete in Sunday's race because of incidents on Saturday.
Sunday morning gave us extremely cold conditions and even snow flurries (in May!). There was some more drama at the start of the race, but Ashton was able to avoid it, picking up valuable positions in the process. During the caution, I talked to her on the radio about how to keep the tires warm and various strategies for the restart. I think this prepared her mentally so she was primed when the green flag dropped again.
Ashton executed her race perfectly, advancing to 11th place. She made smart but assertive passes through the field. Unfortunately, not everybody was thinking as clearly, and there was an incident that dropped her back. Luckily she was able to continue, and she still salvaged a top-20 finish. While this is not indicative of where she had been running, the continued success of finishing every race has now advanced her in the points, and she's closing in on the top fifteen.
The next event is at Road America, where Ashton hasn't driven before. We'll be going there in advance for her to learn the circuit, and I'm excited to see her continued progress in rounds 5 and 6 of the Global MX-5 Cup Series during the SCCA June Sprints.